Every decent website revolves around the same thing: content. A Unique, relevant and up-to date content is highly influential in how successful a website and marketing campaign performs. However, many find that content creation is very challenging and it is one of the most common issues in a business. Often this is due to a lack of time or resources, or simply that people don't know where to start.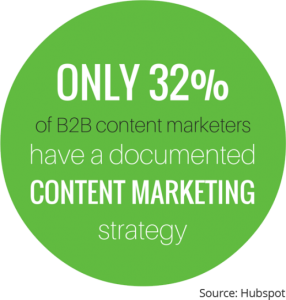 In order to create content and use it for marketing purposes, a business needs to consider how the content will be shared on their website and various online marketing platforms. It is also important to consider the frequency of content and who the intended audience is. There is a wide range of options for online marketing, such as social media, email marketing, website content and blogs. There is plenty for a business to choose from!
Many studies have been conducted into the effectiveness of having a content strategy. These studies have found that higher levels of content on a site can have an impact on the business' marketing strategy and overall search engine ranking. These are just some of the benefits of having a steady stream of fresh, targeted content:
Increase levels of traffic to a website
Increase amount of enquiries/ leads received via website
Build up followers on social media
Enhance brand awareness
Become trusted within your industry by writing content to showcase abilities and knowledge

Sounds great! But how do you create content?
Content creation doesn't have to be a daunting task. Every business has something to talk about, whether it's a new product or service, an upcoming event, or an opinion on a recent industry related story. Not forgetting the most important (and easiest!) source of unique content; customers!
Creating stories around customers and the services/products they have received is the easiest form of content to write. Start by asking the customers for their feedback. The comments that they provide can be used to as the focus point of your content, and this can be shared throughout all of your marketing activities. After all, word of mouth and referrals are the greatest sales tool!
Our top tip for new content creation is to include as many targeted keywords and phrases as possible. This will help towards search engine rankings and help sites such as Google to understand what the content is about. But remember to keep it natural and don't stuff keywords in randomly. This could be seen negatively by Google and other search bots.
Once you've got some content and keep going! Set yourself a target and allocate some time for putting together more. Try to keep to a regular schedule, even if it's just a blog post every month. It all helps!
2 Comments on Content Creation: The key to your websites' success
Categories Blog, Marketing, Websites