Covid has been difficult for many businesses. in fact it has probably been the hardest trading year in living memory with many businesses hardly surviving and many others, unfortunately, going to the wall.
*
Recent new reports regarding the economy have been encouraging with the Office of National Statistics reporting that the UK's Gross Domestic Product (GDP) grew by a record 15.5% during Quarter 3 (July to Sept) 2020, as lockdown measures were eased.
*
This was mostly due to the services, production and construction sectors increasing by record amounts. In September alone, the services sector grew by 1.0%, production by 0.5% and construction by 2.9%.
*
But what does this mean in real terms for the average small to medium sized business? How do these figures relate to what is happening on the ground?
*
The good news is that consumer confidence has increased as people with disposable incomes seek to find ways to dispose of it. This is reflected in the massive rise of search requests we have seen at Local Pages during a similar time frame.
*
In October, trackable leads from our printed directories showed a 6.5% increase. As good as that figure is, it pales into insignificance when you consider the number of customer searches requested at localpages.co.uk
*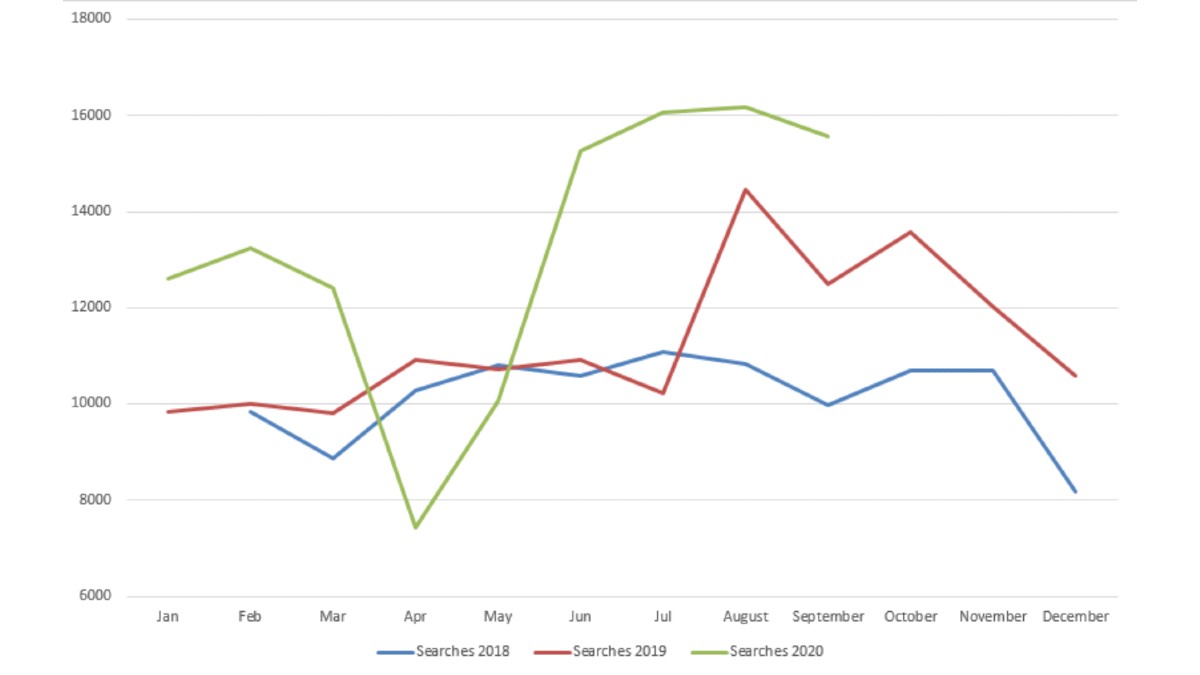 The above graph shows monthly localpages.co.uk searches over last three years
*
After a big slump during the spring when most of country was in lockdown, the number of online searches has increased to record levels. The average number of monthly searches between August and October this year is 15,934, an amazing 28.5% increase on the same period last year and a 51.7% increase on the year before.
*
More than ever, people are relying on Local Pages Online to connect with local businesses within their communities. This large increase in users means that localpages.co.uk has never been so cost-effective or, with annual 'Enhanced' contracts available for less than £5.00 per week, delivered such high returns on investment.
*
To find out more about how your business can tap into this huge increase in potential customers, book an appointment with one of our sales team below.
*
Local Pages – Connecting local businesses and local people
Categories Blog, Business Tips, Local Pages News, Sales, Small businesses