As the manager of a business, no one understands or cares more about the success of your company. That's why having business continuity in place should be a priority, not just because it's best practice but because it's good for your bottom line as well.
Last week was Business Continuity Awareness Week (16th and 20th May) and aimed to help businesses identify the potential returns on investment achievable from business continuity planning. As Information Technology (IT) is a key resource for many businesses this is a good time to review the IT Continuity element of your plans. The benefits of such a review is related to disaster recovery planning and future survival of the business; however it also includes potential increases in profitability through the identification of cost savings, efficiency gains and increased sales opportunities.
What is Business Continuity?
"..loosely defined as the capability of the organisation to continue delivery of products or services at acceptable predefined levels following a disruptive incident."
(Source: ISO 22301:2012)

What are Disruptive Incidents?
Loss of Buildings or Utilities
Loss of access to Facilities, Equipment & Consumables
Loss of access to Information Communication Technology (ICT) Systems (Voice & Data)
Loss of access to Information and Data
Inability to source or access Emergency Finance
Loss of Partners, Suppliers and Supplies
This year alone, businesses have experienced disruption due to flooding, storms, fires, power cuts and cyber crime. Would your business be able to continue delivery of products or services at acceptable predefined levels following a disruptive incident? If you don't yet have a plan to cover all eventualities your business is at risk and could benefit from a Business Continuity Plan.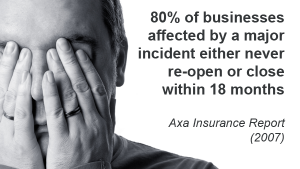 Here are 5 ways that Business Continuity Plans Reduce Risk and Improve Profitability
1.Improve efficiency, develop systems for growth and use resources to increase revenue
Considering the effects of all potentially disruptive incidents relevant to your business and the risk they present involves reviewing business processes. This often reveals opportunities for cost savings and greater efficiencies.
A key area is in the use of new IT platforms and applications. Greater IT efficiencies means lower labour costs and better time management. Wouldn't you prefer to spend more time with your clients and less time managing IT?
2. Become a more competitive supplier
Prepared businesses are more competitive to win contract awards and grow revenues.
If your business is part of a supply chain, or customers can choose between you and your competitors, you need to have a plan; one that will help you even if you don't experience a disaster.
Government regulations or contractual obligations mean that to trade with certain time-critical Government functions, as well as supply chain driven industries such as the oil and gas sector and the manufacturing industry, having a tried and tested BCP is a must if you do not want to risk losing your customers and/or your license to operate.
Many organisations now require critical suppliers down the supply chain to have a BCP. So even if you're a catering supplier, a construction company, a transport supplier or a cleaning company, you can be critical to your customers.
And BCPs are not just valuable to businesses whose customers are other businesses (B2B). Even consumers can be interested in your ability to continue providing products and services no matter what happens. Why not use the existence of your BCP to convince your customers that they are in good hands? This strategy can be applied to numerous sectors, in particular those where health and well-being are at stake, such as hospitality and catering, food suppliers, security providers and utilities.
3. Enhance your reputation and increase resilience
Having detailed plans in place for "the big bang" can also make a business stronger against the far more regular, minor mishaps of everyday life. Responsiveness to small incidents will improve exponentially, considering staff will have a stronger "what if" mind-set, making themselves and the company more resilient and enhancing your reputation.
4. Secure Investment or Funding
Those with a financial interest in a business such as investors and banks are also concerned about a business being sustainable and its ability to continue to operate should adverse events occur. A business continuity plan can help prove the resilience of your company.
5. Lower Your Insurance Premiums
In a recent survey amongst brokers and insurers by the British Insurance Brokers Association (BIBA), 83.3% of the respondents said they would either offer a discount or improvement of the terms of business interruption policies, if companies had a plan.
Categories Business Tips, Small businesses